Uganda, a country once referred to as the "Pearl of Africa", has unparalleled magnificent natural beauty in East Africa and is one of the ten emerging tourist destinations in sub-Saharan Africa.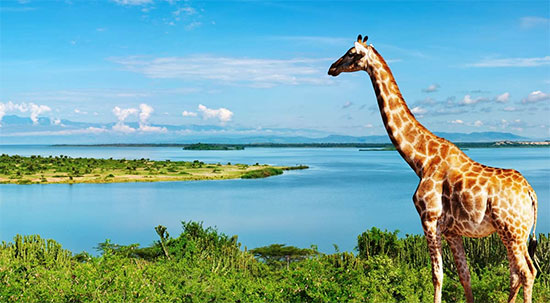 Uganda is located in eastern Africa, across the equator, with a mild climate, abundant rainfall, and abundant water resources. However, due to the large amount of evaporation, most areas are still arid. Due to the weak water infrastructure, water resources have not been effectively developed and utilized. Coupled with surface water pollution and rapid population growth, the problem of water shortage is becoming more and more serious.
There are currently about 60,000 villages in Uganda. Many villages rely on hand-operated wells for water supply and agricultural irrigation. On average, each village has only one hand pump. This is far from the villagers' expectation that the borehole is about 200 meters away from home.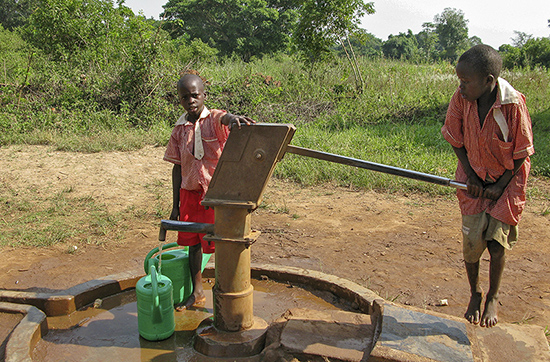 The hand pump can only pump about 700 liters of water per hour. During the dry season each year, it is difficult to bring water from the well due to the falling water level and the limited physical strength of women and children. Engineering and seasonal water shortages make it difficult for residents to use water for domestic and agricultural irrigation, which in turn breeds many social problems.
Due to the quality of drilling and the depth of the well, many existing wells will dry up during the dry season. With the impact of climate change, seasonal rains have become unreliable today, leading to an increased probability of crops drying up due to lack of water during the dry season, thereby affecting food supply security.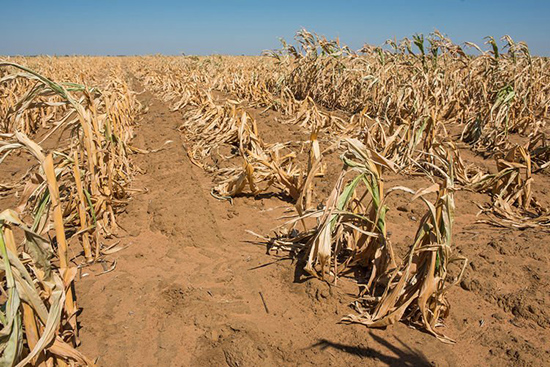 According to relevant report data, as of 2019, only 22% of Uganda's population has access to electricity, mainly concentrated in the capital Kampala and several other large cities and surrounding suburbs. The vast majority of rural areas, which account for 76% of Uganda's total population, are not connected to the grid for power supply. In recent years, thanks to the promotion and application of small solar lights and off-grid energy storage system products, these people without grid access have greatly improved their basic lighting and communication conditions. However, due to the limitation of power generation, these small energy storage solar systems cannot provide power to equally support important water supply equipment and agricultural irrigation systems, resulting in the inability to further improve the health of people in these areas without grid power supply and improve agricultural production ability. How to solve this problem fundamentally requires other new technologies and solutions.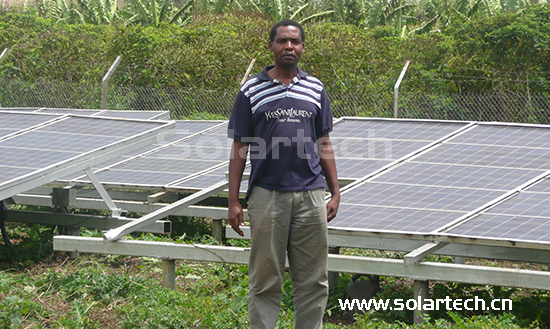 In 2009, the first Solartech solar irrigation system in Africa was built on a suburban farm near Kampala, the capital of Uganda, to solve the practical problems of rural domestic water supply and agricultural irrigation. In 2009, the first Solartech solar irrigation system in Africa was built on a suburban farm near Kampala, the capital of Uganda, to solve the practical problems of rural domestic water use and agricultural irrigation. This project opened a new chapter for Solartech to promote advanced solar water pumping technology and solar water conservancy industry solutions in Africa.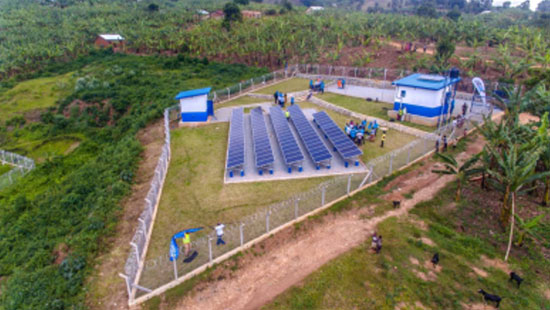 The Uganda Ministry of Water and Environment (MWE) recognize the urgency of using energy from the sun to solve the quality problems of rural water supply and expand water supply coverage. After full investigation, combined with population growth factors, in order to improve the water supply situation of villages, schools and hospitals and other public service institutions and ensure the demand for agricultural irrigation water, MWE planned to achieve the goal of 100% water supply coverage by 2030. MWE recommends that Solartech solar pumping technology and related products will be given priority in existing and planned water source construction projects. To achieve this goal, MWE is planning to implement the "National Solar Water Supply Expansion Plan" policy.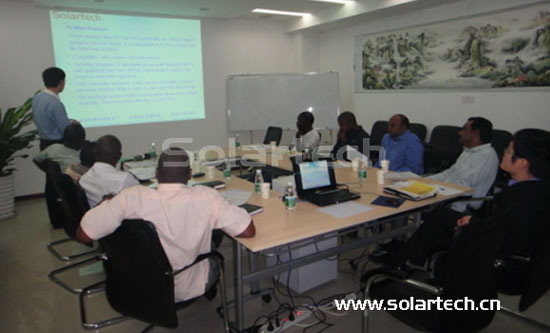 The MWE of Uganda officials and advisory experts visited Solartech to study solar water pumping system technology and exchange ideas (2012)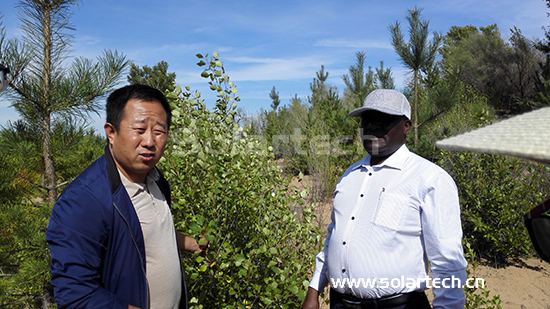 Mr. Chrispus Kiyonga, Uganda's Ambassador to China, visited the solar irrigation desert control base in the Maowusu Desert, Shannxi, China(2017)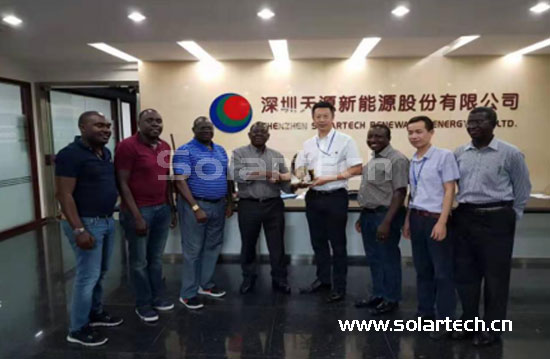 The MWE of Uganda officials and advisory experts group visited Solartech to reach a cooperative intention to jointly develop smart water management platforms and introduce international funds to promote the development of related industries (2018)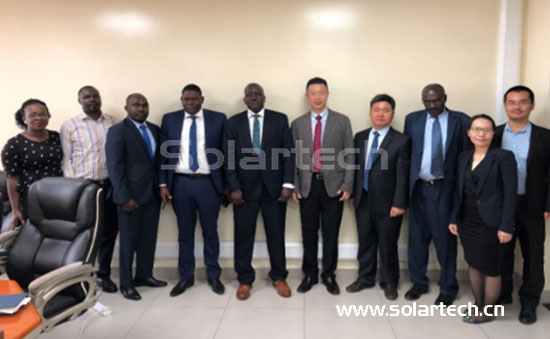 Solartech technical team exchanged the Development Plan of Solar Water Conservancy Industry with The MWE of Uganda officials and advisory experts group (2019)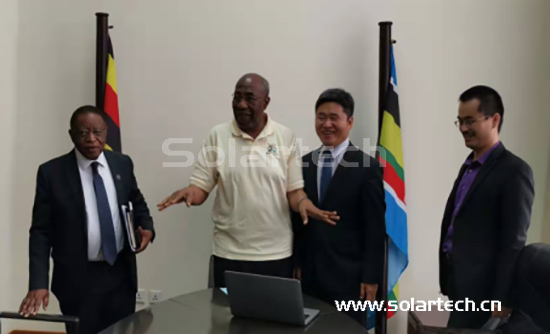 The Prime Minister of Uganda, Mr. Ruhakana Rugunda, praised the solar water pumping system technology originally launched by Solartech, and instructed relevant departments to promote and implement related solar water conservancy industry projects, especially the national smart water system management. (2019)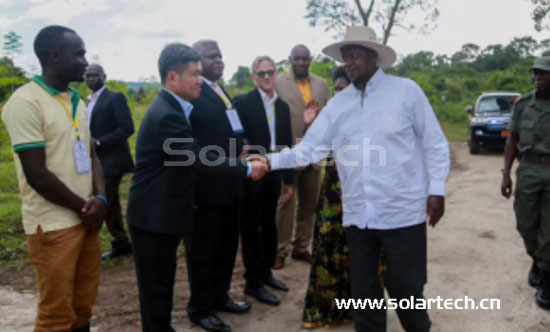 The President Uganda, Mr. Yoweri Museven, visted a solar pumping system project (2018)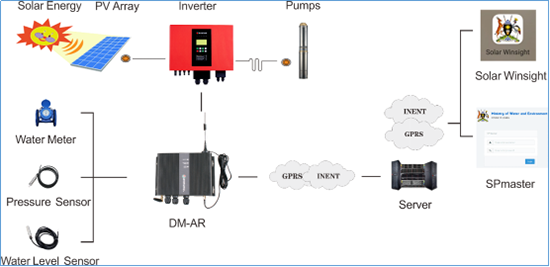 Uganda's National Integrated Solar Water Management System Intelligent Water Management Platform, mainly through the remote monitoring system PC terminal SPmaster and mobile phone terminal Solar Winsight, to achieve the village's solar village water supply, solar agricultural irrigation, solar animal husbandry, school hospital water supply network with intelligent management.
With Solartech Intelligent Water Management Platform equipped, the user is enabled to check solar pumping project's operation status in real time, read and analyze the history operation data, set and control the operation mode, debug and keep maintenance of the system functions by using Solar Winsight App and SPmaster solar pumping user management platform.
Main Features:
1. Manage all solar pumping projects under user's account, create\edit\delete project information.
2. Monitor the operation status of solar pumping project, including PV power, PV voltage, PV current, motor current, motor speed, flow rate, water pressure, total dynamic head, cable loss, temperature, inverter operation status, and inverter fault status.
3. Monitor the operation status of DM data monitor, including operation status, irradiance, battery capacity, signal strength, and temperature.
4. Record historical operation data of solar pumping project, display real time operation data, easy and convenient for statistics and analysis.
5. Allowance to set system control parameters remotely to enable or disable all system functions, including operation, timing control, motor speed limitation, water pressure control, borehole dry run protection, tank overflow protection, liquid level control, solar irradiance control.
6. Allowance to set the solar pumping inverter's operation mode including "Run", "Stop", "Reset" remotely.
7. Supports to read inverter internal parameters remotely, facilitating remote debugging and operation for user or technician. 8. Record data for up to 5 years (10-minute collection interval, 24-hour operation).
9. Apply Bluetooth & GPRS communication methods to achieve local & remote data transmission.
10. All data encrypted to ensure data security.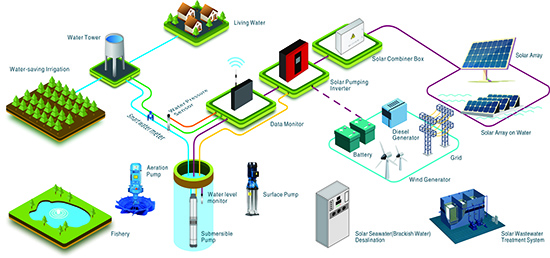 Solartech solar pumping system mainly consists of a solar pumping inverter, a pump and a solar array. The systematic principle is the solar pumping inverter regulates and controls whole system operation, driving the pump by converting DC power produced by solar array into AC power, using MPPT (Maximum Power Point Tracking) to adjust output frequency according to solar radiation in real time to fully apply the solar array produced power on the pump.
Key Features:
1. No invest on building grid, fully use of generated solar power.
2. No bill on diesel, full automatic operation.
3. No storage battery, storing water instead of electricity.
4. No need to build water channel, supply water directly on site.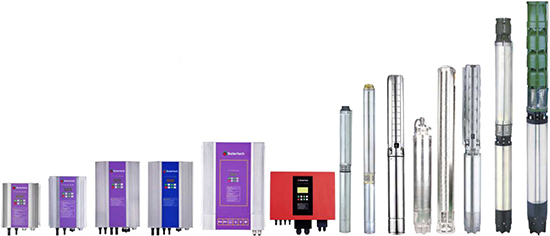 AC Solar Pumping System, Capacity from 1Hp to 100Hp (3Phase) and 1Hp to 3Hp(1 Phase)
Permanent Magnet Solar Pumping System, Capacity from 250W~1500W(BLDC)
Can be connected to the battery to meet the needs of electricity and water
More cases: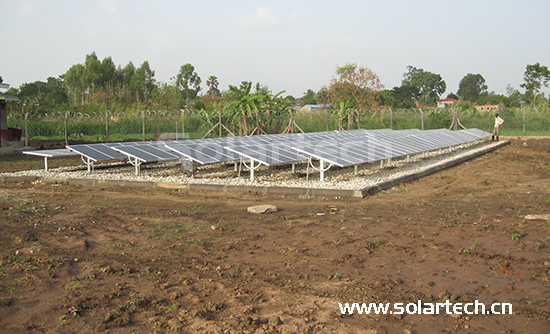 Solar agriculture irrigation in Uganda (2013)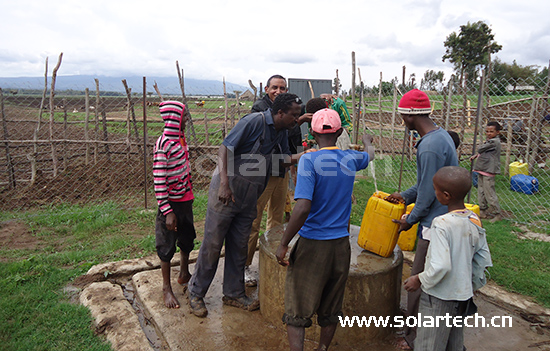 Solar village water supply station in Ethiopia( 2013)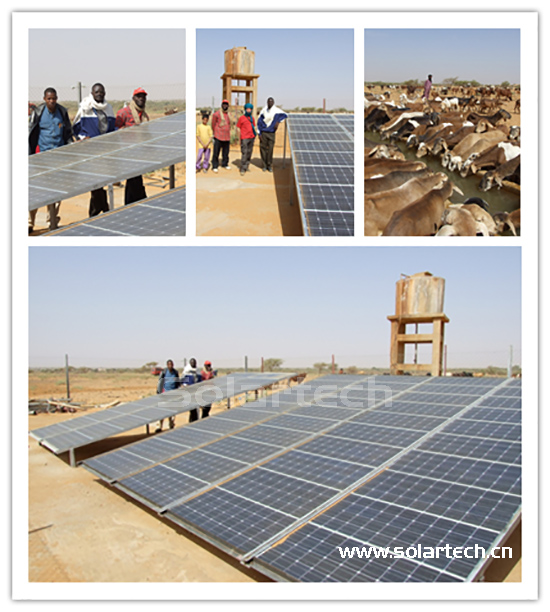 Mali(2013)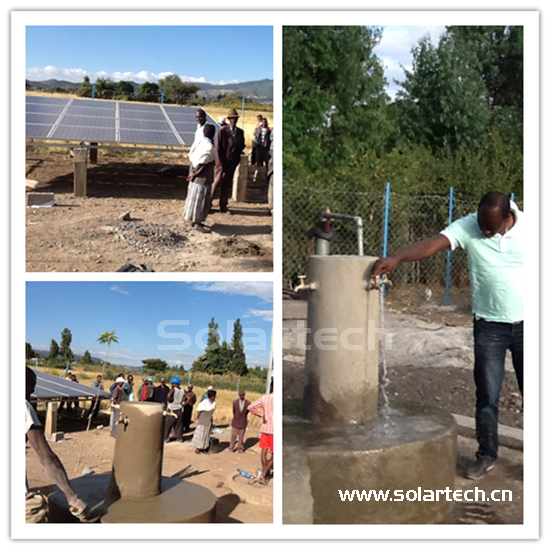 Ethiopia(2013)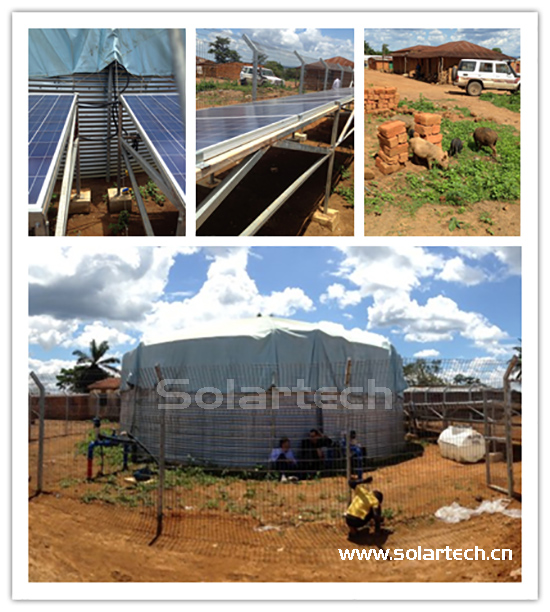 Angola(2014)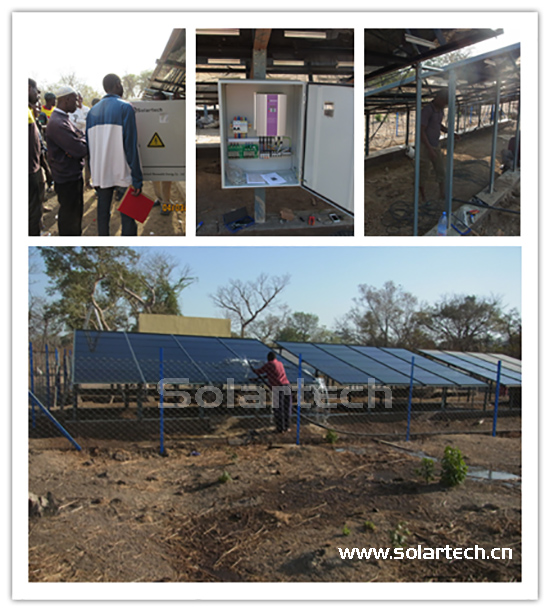 Genia(2015)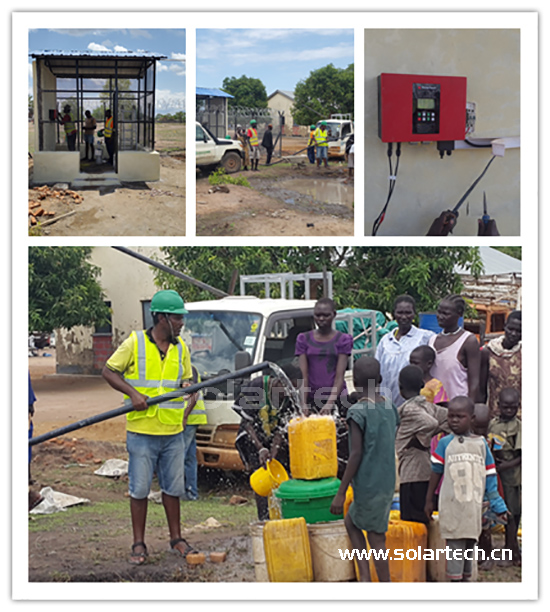 South Sudan(2015)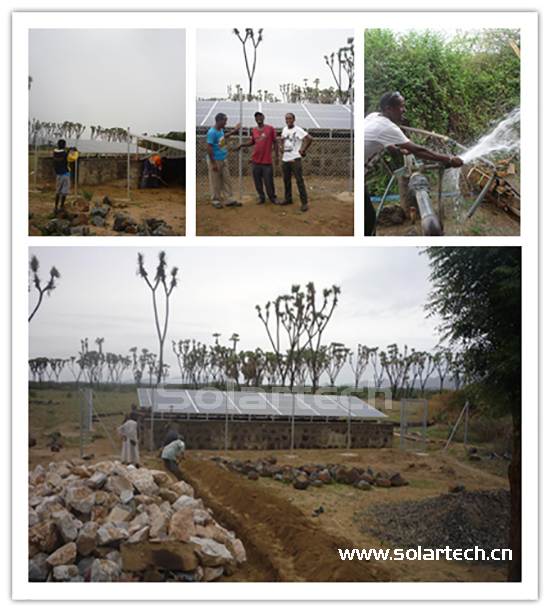 Eritrea(2016)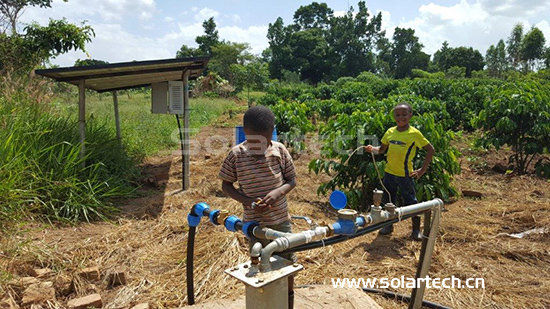 Solar water-saving irrigation in Uganda(2017)
From the perspective of daily life needs, there are still about 790 million people in the world, that is, one in nine people lacks safe water (cited: Water.org). In terms of land irrigation conditions, only about 18% of the total cultivated land area in the world has irrigation (cited: FAO). The above problems are particularly prominent in most countries in sub-Saharan Africa where energy, electricity and water infrastructure are relatively underdeveloped. Uganda is only a case. Solartech is willing to work with investors, companies, and NGOs from all over the world who are committed or willing to participate in improving the water supply conditions in sub-Saharan Africa.
---
Let the World of Water Fill with Sunshine
---
About Solartech
Shenzhen Solartech Renewable Energy Co., Ltd
Solartech is the world's leading solar pumping system professional manufacturer as well as the global solar water conservancy system technology solution provider.
Solartech solar pumping system products have been applied in more than 120 countries and regions around the world in living water supply, water-saving irrigation, sea water & brackish water desalination, pasture animal husbandry, desert control and other fields.
The patented solar pumping technology which originally developed by Solartech can directly convert solar energy into photovoltaic power to drive pumps and no need power grid or energy storage batteries. It is ready for use during the day and can store water instead of electricity at night. Solartech solar pumping system technology was listed in the China Key Promotion Guidance Catalog of Advanced Water Conservancy Technologies by the Ministry of Water Resources in 2011 and awarded the United Nations Global Human Settlements Model of Green Technology in 2014.