In response to Thailand's Integrated Energy Blueprint Plan, Solartech solar pumps which with the function of "Solar Priority with Grid Complementary" ensures solar power will be preferential to use, significantly reduces the cost of agricultural irrigation electricity, reduces the environmental pollution caused by fossil energy power generation, and fully ensures the safety of electricity during busy farming season.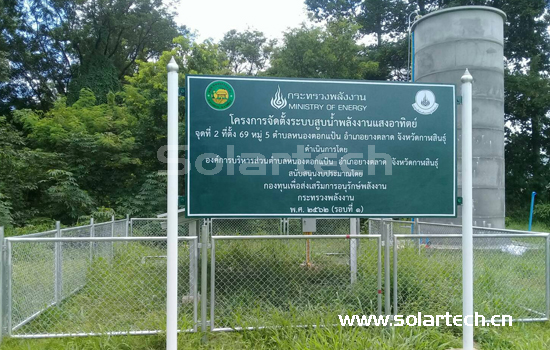 Although over 90% of Thailand has a power grid, the country's reliance on domestic and imported natural gas for most of its electricity, which has led to high electricity costs for agriculture and often insufficient electricity supply during busy farming seasons, posing a threat to food supply security. Therefore, preferential using of solar power generation and natural gas and other fossil energy as the auxiliary power supply, through the development of solar agriculture is becoming the primary goal to ensure food supply security. In 2016, Thailand imported 60% of its energy, therefore reducing energy prices to ensure electricity security and prioritizing the use of solar energy to protect the environment are the main objectives of Thailand's Integrated Energy Blueprint 2015-2036. Thailand has also committed to reduce greenhouse gas emissions by 20-25% by 2030 and also set a renewable energy target of 30% of total final energy consumption by 2036 in its 2015 Alternative Energy Development Plan.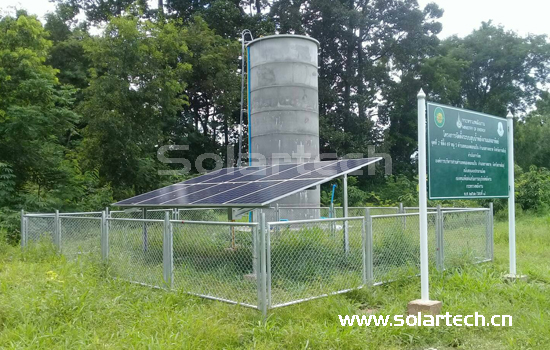 Agriculture is a traditional economic industry in Thailand. The country's arable land area is about 224,000 km2, accounting for 41% of the country's land area. Agricultural irrigation consumes a significant proportion of electricity energy, especially during the dry and hot seasons from November to May. Due to the implementation of the peak electricity price policy in Thailand, the cost of agricultural irrigation electricity during the peak period increases significantly, and the burden of farmers' electricity expenses increases.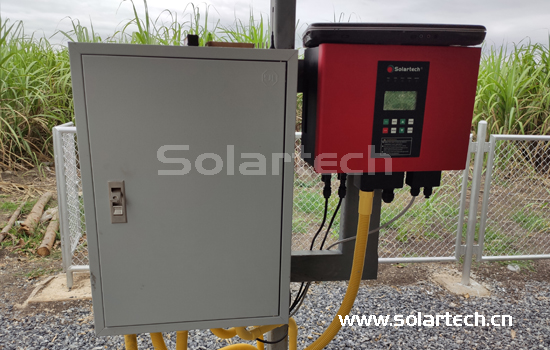 According to the fact that Thailand has a good power grid construction foundation, but high power generation cost, large power transmission and distribution loss, and insufficient electricity supply in busy farming season, Solartech innovatively developed PB-LG2 (A) -pv series products with priority of using solar energy and supplement of grid power, providing a good solution to the above problems.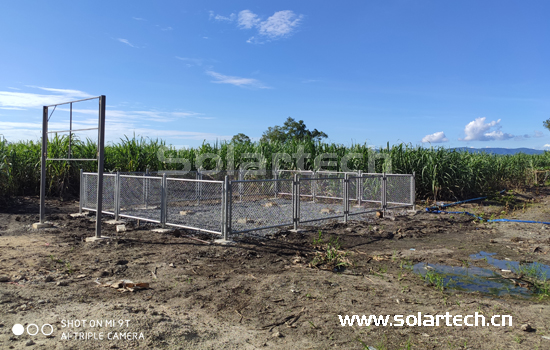 Definition of Solar Priority with Grid Complementary:
Under the condition of simultaneous power supply of solar and AC power supply, the priority of maximum utility using solar power generation, and automatically blocks or accesses the AC power supply as the supplement power supply. This function can improve the use efficiency of solar power generation and reduce the consumption of municipal electricity, thus reducing the electricity cost of farmers and ensuring the safe power supply during the busy farming season.
Main Features of Solar Priority with Grid Complementary:
1. When the solar radiation is sufficient, the grid power input is blocked, and the system runs only under the MPPT mode of solar power supply.
2. When the solar radiation is insufficient, the grid power supply will be supplemented, and the solar power generation will also work at the maximum power point, and the system will operate under the rated power state.
3. When there is no solar energy, the grid power is supplied separately and the system runs under rated power.
4. Automatic switch, no external switch is needed to control the power on or off, directly realize the priority function of solar energy.
5. As long as there is solar energy, the solar power input will be tracked in MPPT mode, avoiding the waste of low-light energy.
6. Support 24 hours operation, daily solar power and grid power complementary operation, when power grid failure, the system can be connected to diesel generators or other backup AC power.
Application of Solar Priority with Grid Complementary:
Solar energy-saving transformation
Constant pressure control management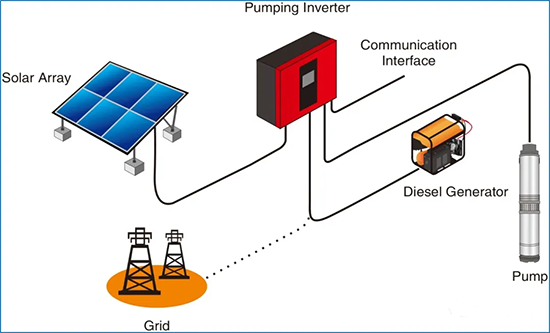 At the same time, the system can also be equipped with Solaretch solar pumping remote monitoring & control system, which can implement low cost, high effective solar pumping projects management. By applying the DM data monitor in solar pumping system, user is enabled to check solar pumping project's operation status in real time, read and analyze the history operation data, set and control the operation mode, debug and keep maintenance of the system functions by using Solar Winsight mobile App and SPmaster solar pumping user management platform.
Main Features:
1. Manage all solar pumping projects under user's account, create\edit\delete project information.
2. Monitor the operation status of solar pumping project, including PV power, PV voltage, PV current, motor current, motor speed, flow rate, water pressure, total dynamic head, cable loss, temperature, inverter operation status, and inverter fault status.
3. Monitor the operation status of DM data monitor, including operation status, irradiance, battery capacity, signal strength, and temperature.
4. Record historical operation data of solar pumping project, display real time operation data, easy and convenient for statistics and analysis.
5. Allowed to set system control parameters remotely to enable or disable all system functions, including operation, timing control, motor speed limitation, water pressure control, borehole dry run protection, tank overflow protection, liquid level control, solar irradiance control.
6. Allowed to set the solar pumping inverter's operation mode including "Run", "Stop", "Reset" remotely.
7. Support to read inverter internal parameters remotely, facilitating remote debugging and operation for user or technician.
8. Record data for up to 5 years (10-minute collection interval, 24-hour operation).
9. Apply Bluetooth & GPRS communication methods to achieve local & remote data transmission.
10. All data encrypted to ensure data security.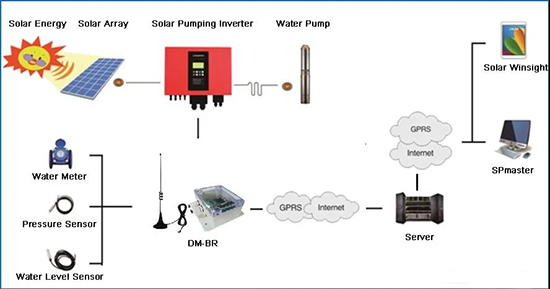 Since 2014, Shenzhen Solartech, together with local partners, has successively participated in bidding projects for solar powered water pumping systems in Bangkok, Nangburi, Surin, Roi-et, Chaiyaphum, Ubonratchathani and other provinces in Thailand. More than 80% of the systems are used for solar irrigation, with direct irrigation area of nearly 2,000 km2. The solar water conservancy industry initiated by Solartech has been successfully implemented in Thailand and will help Thailand's Integrated Energy Blueprint to be realized as scheduled.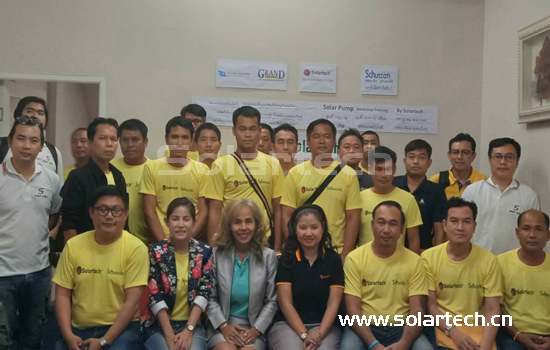 ---
Let the World of Water Fill with Sunshine
---
About Solartech
Shenzhen Solartech Renewable Energy Co., Ltd
Solartech is the world's leading solar pumping system professional manufacturer as well as the global solar water conservancy system technology solution provider.
Solartech solar pumping system products have been applied in more than 120 countries and regions around the world in living water supply, water-saving irrigation, sea water & brackish water desalination, pasture animal husbandry, desert control and other fields.
The patented solar pumping technology which originally developed by Solartech can directly convert solar energy into photovoltaic power to drive pumps and no need power grid or energy storage batteries. It is ready for use during the day and can store water instead of electricity at night. Solartech solar pumping system technology was listed in the China Key Promotion Guidance Catalog of Advanced Water Conservancy Technologies by the Ministry of Water Resources in 2011 and awarded the United Nations Global Human Settlements Model of Green Technology in 2014.