Generally speaking, a
solar pumping system
is a new system that is flexible and can work in tandem with a backup generator and the electrical grid. It usually includes the solar panel, the solar pumping inverter, and other accessories. While on the whole, a solar pumping inverter plays an important role in the system. It is utilized to convert the direct current of the PV system output into the alternating current.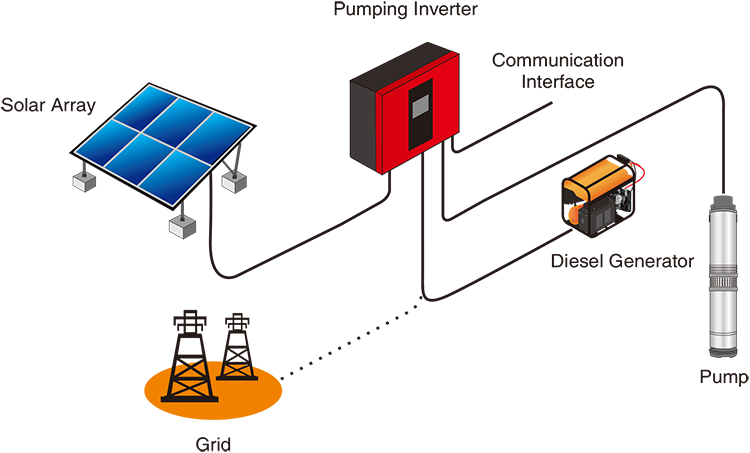 Working Principle Diagram of Solartech Hybrid Solar Pumping System
So, today we want to recommend you a new product from Solartech, the PB-G3 smart pro solar pumping inverter, which has copious functions and merits. To help you understand the product clearly, let's start with its features and then talk about its advanced functions.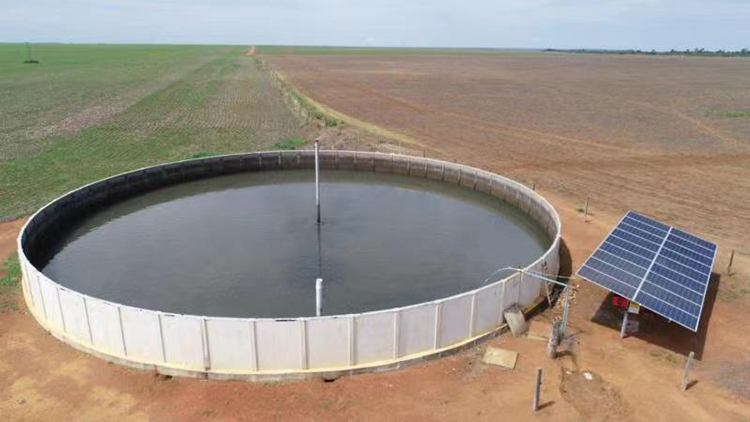 A Solartech solar pumping system has just been installed on a farm in Brazil
Features of the Solartech PB-G3 Smart Pro Solar Pumping Inverter
The
solar pumping inverter
from Solartech comes with different features that include the following:
● High Efficiency
The pumping inverter comes with a Maximum Power Point Tracking (MPPT) algorithm dynamic VI – the efficiency of MPPT goes about 99%. Not only this, our inverter conversion efficiency ups to 98%. Our high stability and fast response speed make our products stand out in the market.
● Widely Compatibility
Our newest solar pump is quite compatible with different surface pumps, submersible pumps, and different swimming pool pumps through the utilization of induction motors. So you don't need to worry about whether your place is suitable with our products.
● Automatic Operation
The operation is fully automatic – storage capacity for eight years for the operation data. In addition, our products achieve monitoring the whole system by the optional built-in wireless communication module. All of these merits will rich your user experience.
● Suitable for Harsh Environment
IP65 protection grade with protective sealing is also present in the solar pumping inverter, making it suitable for challenging environments faced in an outdoor installation. Moreover, Our solar pumping inverter comes with a soft start pump support with full motor protection. There is also a water level that is optional for protecting the dry running and the overflow. All of this significant goodness will guarantee the product's stable use in a harsh environment.
● Easy to Operate
The user-friendly interface with an LCD and rich display information of the solar pumping inverter makes it highly effective and efficient among its competitors. Not only that, our installation is quite easy and convenient. It is because our products don't need to build a control room or control box. All of these will reduce your supporting facilities and save equipment costs.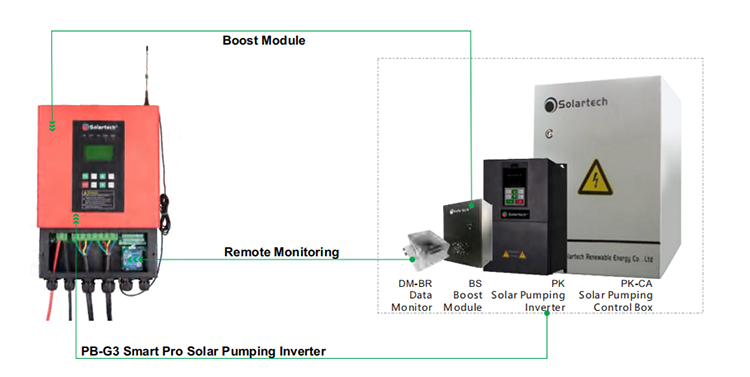 Highly integrated Solartech PB-G3 Smart Pro Solar Pumping Inverter
What Makes Solartech PB-G3 Smart Pro Pump Inverters Stand Out?
Our new product comes with different characteristics and benefits: convenient installation, simple wiring, low cost of maintenance, long service life, and high efficiency for the system. But here the essential reason why our products are the best is our advanced functions. So let's get started with it!
Our PB-G3 series products effectively achieve to work the whole day without additional equipment or devices. Our products are allowed to connect with AC power input such as grid power or diesel power to work effectively for a whole day.
Our products are given to maximize the utilization of solar energy. When there is a condition that both solar power and AC power are available, we will use solar power as the priority choice, and the AC power is automatically shielded. In this way, compare with other products, our products will save your electricity cost to some extent.
The Solartech solar pumping inverter comes with a wireless communication module support system that helps for accurate remote monitoring of the inverter. Compared with other competitors, who lack the module required for wireless communication, the distinct merits make our products popular worldwide.
In addition, we will provide you pressure detection and control, timing control, liquid level depth detection, and other monitoring functions. We are constantly providing easy to control and other functions to help users get a satisfactory experience.
Multi-Pump Linkage is Available
Multi-pump linkage is the latest design to support multiple solar pumps operating in parallel but powered by a solar array. It ensures our water pump works efficiently in the best condition and reduces the solar array power configuration. Compared with others, we successfully achieve efficient large-flow expansion, lifting system application, and increasing the overall efficiency power.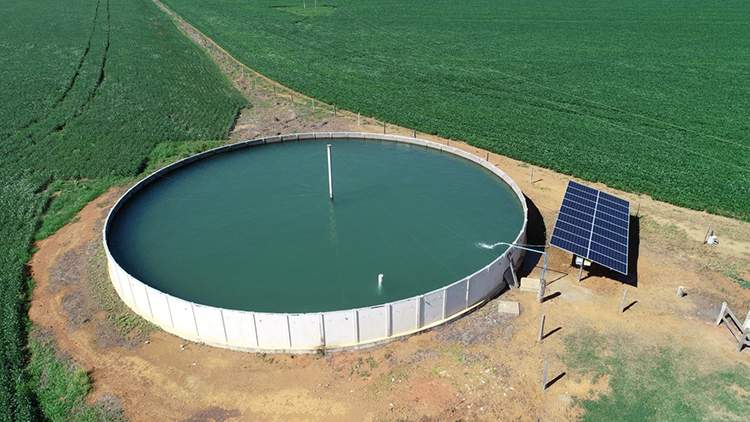 A few months later, the same farm was irrigated by Solartech solar pumping system
Conclusion
Solartech
solar pumping inverter is a complete solution for you for the intended purpose. If you own this advanced product, you will throw away troublesome inverters that don't last long and fail to live up to the client's expectations. Get amazing functionality and see the more efficient performance with features such as a hybrid AC power supply with solar priority, support multi-linkage system, and a built-in module for remote monitoring.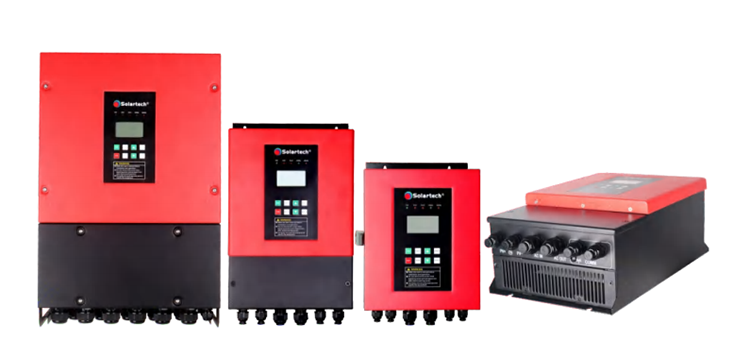 The family of Solartech PB-G3 Smart Pro Solar Pumping Inverter
In addition, we are your reliable partner who has plenty of predominant products. Our professional R&D team will guarantee to provide you the most advanced product, which will win your application. For more information, you can visit our website and get in contact with us without hesitation. You can also find related pump products for effective performance. Come and take some time to hear how we may help you.