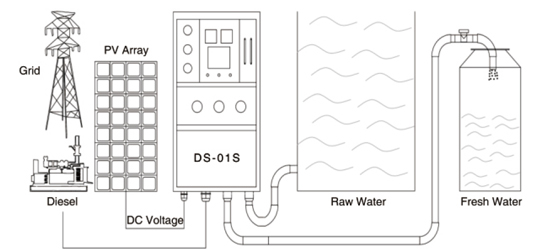 As the development of desalination technology, the water desalination market is growing rapidly, fresh water can be produced everywhere with electricity. But for the remote areas like islands, deserts, saline-alkali lands and ships with tiny installation spaces where have no grid power, it's not practical to build large scale water desalination plants. To meet the fresh water demand of these special areas, Solartech developed and released the solar seawater/brackish water desalination systems.
Solartech SDS solar seawater/brackish water desalination systems apply solar pumping technology with reverse osmosis water desalination technology to implement full system operation using solar energy to produce fresh water. The system technology and products have obtained national invention patent and utility model patent. A solar water desalination system consists of a solar subsystem and a seawater/brackish water desalination subsystem. The solar subsystem converts solar energy into electricity to run the desalination system, driving the subsystem to produce fresh water from seawater/brackish water. The system with no battery runs automatically, it can apply solar energy to operate in day time and apply diesel generator to operate at night. The system construction and maintenance costs can be dramatically reduced comparing to building a new grid network.
System Features:
● Fully apply solar energy for seawater/brackish water desalination, no need storage battery;
● Adopt reverse osmosis technology to produce fresh water, high water production efficiency, meeting drinking water quality;
● Full automatic operation, full digital control, support data storage, complete protection functions;
●Integrated with patented MPPT algorithm, anti reverse connection, anti-kickback, current-limiting protection;
● With anti-corrosion, anti-typhoon, anti-lightning design, IP54 protection grade, suitable for indoor and outdoor installations;
● Support grid/diesel generator back up power supply to run system together with solar energy, meeting urgent operation request;
● Simple operation, free maintenance, user friendly interface, clear indicators;
● Light weight, small size, easy for installation;
● Ambient operation temperature: -10˚C ~+50˚C.
Model Specifications:

* Daily fresh water production is calculated per using recommended PV array only according to 6kWh/m²/day solar radiation. Daily fresh water production can be increased to max. 4 times when using grid or diesel generator together with PV array to operate the system 24 hours a day.