Solartech Solar Pumping System Accelerates ASEAN's Agriculture Modernization--Solartech Attending CHINA-ASEAN EXPO
"Common development and prosperity", in Sep 16, 2014, The 11th CHINA-ASAEN EXPO and The CHINA-ASAEN Business Investment Summit were opened in Nanning, China. As the world's leading solar pumping system solution provider and professional manufacturer of solar pumping systems, solar irrigation systems, permanent magnet solar pumps and solar pumping inverters. Solartech highlighted this expo by demonstrating its new released PSM series permanent magnet solar pumping systems which drew and won the attentions from both domestic and ASEAN customers.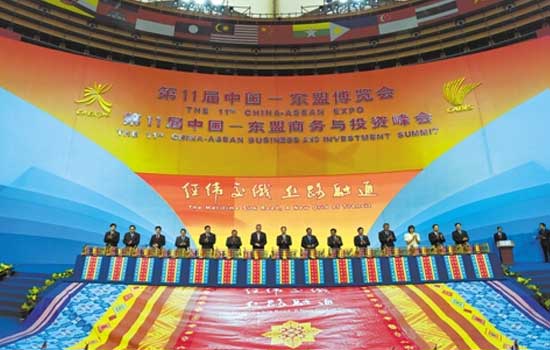 The Opening of The 11th CHINA-ASEAN EXPO
On the expo, Solartech welcomed Shenzhen deputy mayor Chen Biao and Baoan District Mayor Wang Hongbin and other city governors at the booth, Solartech introduced them Solartech PB/PF/PSM series solar pumping products. Chen Biao listened Solartech's achievements carefully and extended his congratulations on Solartech winning of United Nation's "Global Human Settlements Model of Green Technology"; Chen Biao also praised the green business model of Solartech which combined traditional agriculture with photovoltaic industry. "Solartech solar pumping system represents an epitome of Chinese industry upgrade." he added, "Solartech should take CHINA-ASEAN EXPO as a chance to continue its leading role in the industry of solar pumping and solar agricultural water conservancy technologies."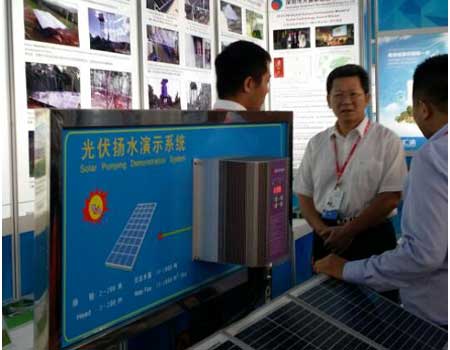 Shenzhen deputy mayor Chen Biao at Solartech Booth
10 ASEAN countries have been the key countries of Solartech solar pumping system applications in long time. To name but a few, in Thailand, Solartech solar pumping system was adopted for orchid planting and dairy cattle breeding. In Cambodia, Solartech solar pumping system was used for cultivating spice and organic rice. In the Philippines, Solartech solar pumping system was applied for cane and banana field irrigation. In Vietnam, Solartech solar pumping system was installed for managing the modern cropland. Briefly Solartech solar pumping systems have been widely adopted in the field of agricultural irrigation, daily water supply, and grassland husbandry in ASEAN countries, which successfully solved the problems of irrigation water shortage due to the lack of seasonal rainfall, as well as the irrigation power source shortage due to unbalanced regional infrastructure, which consequently accelerates the transformation speed of ASEAN Agriculture Modernization.
Comparing with the traditional agriculture, the ASEAN agriculture modernization is moving towards leisure and aesthetics. Agriculture for holidays, agriculture for entertainment, and agriculture for tourism are now becoming same important as the agriculture for production. Modern agriculture is not only stressing on the advanced technology combination and diversified agriculture industry integration, but also on the resource conservation and a cleaner environment, which leads to a sustainable development. Solar pumping system integrated with water conservation technology can make a great difference to the modern agriculture development and this will change traditional high investment and low output situation of agriculture production, thus making the modern agriculture one of the most promising and benefiting industry.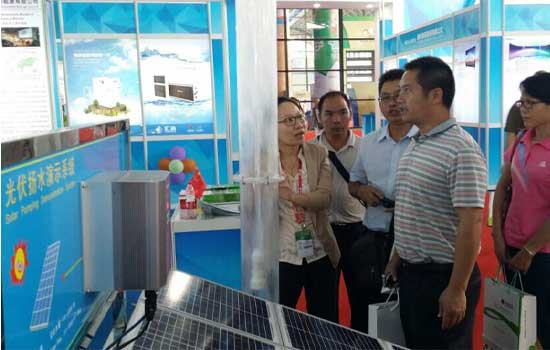 Introducing Solartech solar pumping system todomestic and oversea customers
On the show, Solartech released its new invented PSM series DC brushless motor solar pumping system which is designed for small-scale farms, its superior performance and competitive price had caught eyes from purchasers and other exhibitors. With 14 years experience in solar pumping system solutions, Solartech business has covered most areas of the world. After authorized the "Global Human Settlements Model of the Green Technology" at Global Forum on Human Settlements (GFHS), Solartech will take the opportunity of CHINA-ASAEN Expo to expand and enhance its business in small-scale farms, this will inevitably set off a new green revolution of irrigation across the world.