Solartech: Green energy is the best way for the world to respond to the epidemic and solve energy security problem.
On May 7, the "2021 Forum on Green Energy and Climate Change" was held at Kunming, Yunnan, China. The large-scale technology forum is jointly organized by the Rural Electrification Research Institute of the Ministry of Water Resources, the Yunnan Green Energy Industry Association, and the Zhejiang Solar Industry Foreign Trade Forewarning Point. China International Chamber of Commerce Yunnan chamber of Commerce, Shenzhen Solartech Renewable Energy Co.,Ltd and more than dozen well-known institutions as support units and 200 students attended the on-site forum and gave a keynote speech. More than 100 people from energy departments and related companies in more than 10 countries in South Asia, Southeast Asia and Africa shared the forum process and results online at the same time.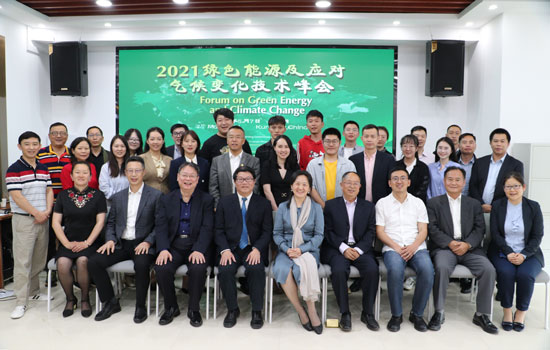 Experts, scholars and researchers participated in the Forum
The theme of the forum focuses on the solar technology, application, industry and the future development of solar. It is believed that the advantages of solar are prominent and the technological innovations are significant, and the use of solar water conservancy to achieve carbon peaking and carbon neutrality. Mr. Zhang Ju, Sales Director of Solartech, delivered a keynote speech on "Solartech solar pumping technology and in the 'Belt and Road' countries innovative application", said that in response to the current global situation and energy innovation results, green energy, especially solar water conservancy, is the best way for the world to fight the epidemic, promote production, respond to climate change, and solve energy security issues such as ecological restoration.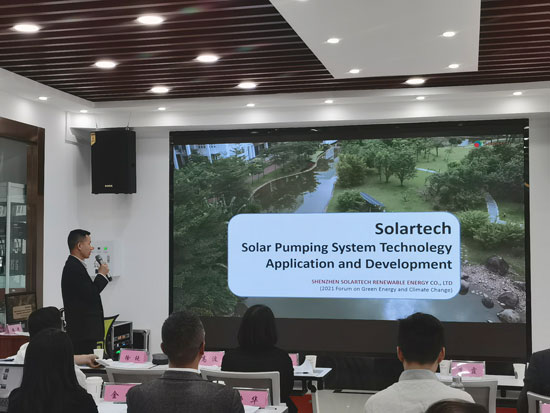 Mr. Zhang Ju delivered a keynote speech on solar pumping system technology application and development.
Mr. Zhang Ju believes that at present, the world's energy security, water crisis, food shortage, desertification and other problems are becoming more and more serious. What is worse, the sudden outbreak of COVID19 has brought more troubles and difficulties to mankind. Some obstacles are unprecedented, and some difficulties may exist for a long time. So how to deal with and solve the above-mentioned global problems under the current situation?
Mr. Zhang Ju explained that Solartech's solar pumping technolog have the main advantages of ready-to-use, no need for energy storage, no need for power grids, water storage instead of electricity storage, ect. The Innovative applications in the fields of living water supply, agriculture and forestry irrigation, grassland and animal husbandry, desert management, and seawater desalination in more than 120 countries around the world have created unlimited possibilities of new energy. Advocate the development of solar water conservancy industry, use industrial technologies that are close to people's livelihood, serve society, and create value to solve the problem of lack of electricity for people's livelihood in remote and off-grid areas, solve the development problems of agriculture and animal husbandry, and extend the application of solar energy to a wider range of people's domestic water and ecological restoration, agricultural production and other fields. Proposed multi-industry joint actions, and prioritized the use of solar water conservancy industry technology in projects such as land reclamation, balance of occupation and compensation, smart water, smart agriculture, rural revitalization, and green ecological industrial parks. It can not only save energy and reduce emissions, create industrial value, promote the development and application of green energy in the Belt and Road countries, but also create a grounded business model, introduce industrial capital, and accelerate the realization of the goal of carbon peaking and carbon neutrality.
At the forum, Dr. Xu Jincai, Secretary of the Party Committee and Director of the Rural Electrification Research Institute of the Ministry of Water Resources, Dr. Charlie DOU, Consultant, World Bank and Asian Infrastructure Investment Bank on New Energy Technologies, Mr. AdanMangal, Expert, Afghan National Standard Authority, Ms. Li Xia, CEO of Shenzhen Power-Solution Co., Ltd., and Mr. Cao Hua, General Manager of Overseas Power Plant Development of Zhejiang Chint New Energy Company, all delivered their enthusiasm presentations at the forum. The speeches won applause and praise from the audience and online participants in China and abroad!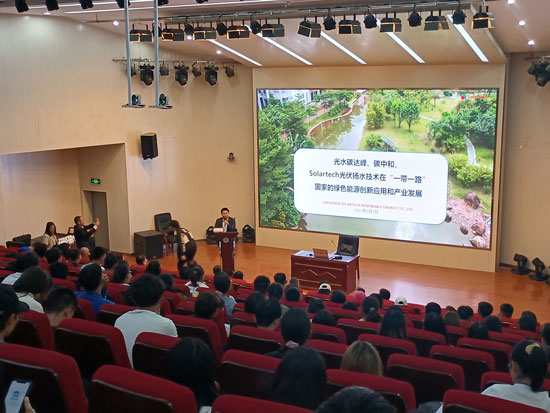 Mr. Zhou Zhong explained the technology application and industrial development of solar water conservancy in achieving carbon peak and carbon neutrality
From 7pm to 10pm that night, with full sincerity and eagerness for professional talents, Solartech participated in the school-enterprise exchange job fair jointly organized by the Yunnan Green Energy Industry Association and the School of Energy and Environmental Sciences of Yunnan Normal University after the forum. According to Dr. Xu Rui, the dean of the college, there are more than 800 doctoral, master and undergraduate students in the college, and three research directions of solar, solar thermal, and biomass energy and a comprehensive system of joint training and joint development include the Institute of Solar Energy, the State Key Laboratory, and the National Photothermal Photovoltaic Testing Center have been formed. Regarding this long lineup and high-quality talent matrix, Mr. Zhou Zhong explained Solartech' solar pumping technology and solar water conservancy industry direction. He said that Solartech would cooperate with the college for a win-win situation and invite graduating class students to Joint Practice Base of Solartech and Tsinghua University, together with students from the Institute of Advanced Studies of Tsinghua University to start the joint internships, joint research, sharing technological innovations, and creating a new future for green energy in the "Belt and Road" initiative!
Mr. Shi Hongfeng, President of Solartech, attended the above forum.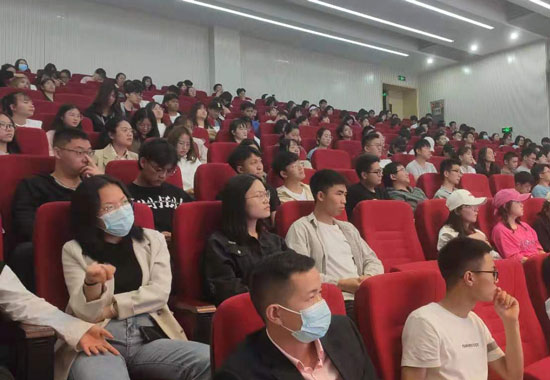 The researchers and students participated in the Forum gathered together and asked questions about their career in renewable energy industry.